CODY (standing for Coway Lady), is a team of dedicated and professional female specialist, who are always ever-ready in assisting customers with technical matters related to filter replacements and product maintenance.
The CODY career is recognized by the Korea Ministry of Labor. Over 14,000 CODYs in Korea are delivering the best
HEART Service since 1999.
Over 5,000 CODYs throughout Malaysia are dedicated in maintaining Coway products at the best condition since 2008.
Coway will officially introduce CODY team in 2020 to offer the best service to our customers.
Cody will be the one who directly deliver our HEART service, offering a unique experience that can satisfies even the most demanding customer.
SPEEDY

Quick and thorough: that's her reputation. A Cody treasures your time and does her job as promptly and efficiently as possible!

EXPERT

By the time she completes training, each Cody is a certified
Coway expert who knows exactly how to keep your purifier in tip-top condition.

CARING

In Cody culture, business IS personal. After all, it's hard not to treat your customers like family with maintenance visits every 3 months!

ALERT

A good Cody knows the importance of being responsive to customers' needs. One of those little things that makes her service superior.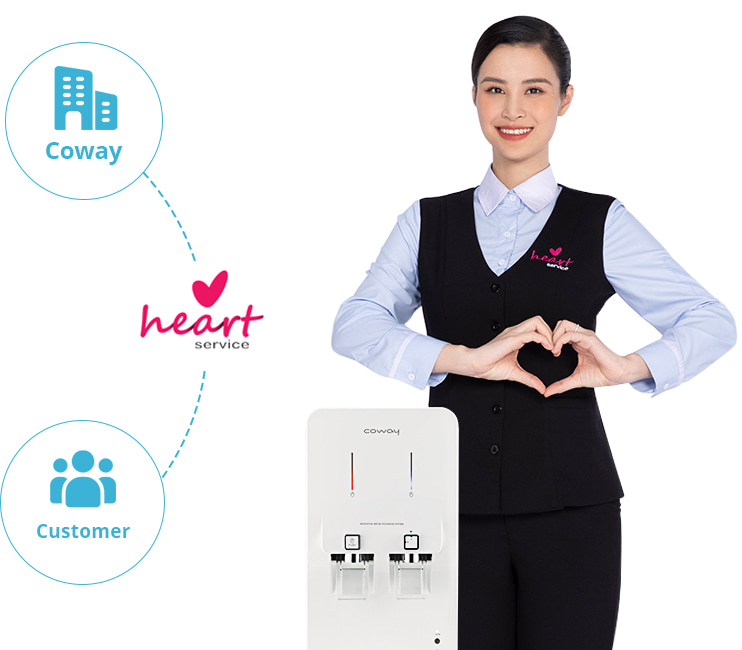 OUR CODY CARES ABOUT YOUR
KEEP YOUR PRODUCT AT THE BEST CONDITION WITH
OUR EVERY 3 MONTH SERVICE!
JOB OPPORTUNITY
Cody - Customer Service Collaborator
Come to Coway Vina to become a service that connects from our heart to our customers.
If you need more information, please contact Hotline: 024.3759.0888 - 1800.556.892 or send to the email address cody@cowayvina.com.vn