Coway's first Research and Development (R&D) Center was established in 1993, after 16 years of development, Coway R&D has become one of the largest residential water and air technology R&D center in the world.
The headquarters is located on the campus of Seoul National University, Korea with a land area of 4.165 m2 and a total floor area of 12.050 m2.
At Coway R&D, we have been focusing on the development of innovative and sustainable technologies along with rigorous manufacturing and inspection processes to bring the best quality products to our customers all over the world.
COMPANY THAT STUDIES WATER, AIR AND PEOPLE
With its expertise in water and air quality and sense of responsibility, the Coway R&D Center has obtained new technologies and developed innovative products to ensure a healthy living environment for customers.
With 370 professional researchers, including 18 WQA-Certified Water Specialists (CWS), thoroughly carries out tasks ranging from previous research to product design ∙ development, reliability test, and customer satisfaction test.
We secure testing capabilities and reliability as a drinking water inspection agency designated by the Ministry of Environment and as an internationally recognized testing laboratory by various domestic and foreign organizations and associations.
Coway is now using as a future growth engine, IoCare, which provides customized solutions with the use of IoT (Internet of Things), to present a new paradigm for customer value.
Technology assets
We have developed a database on the world's water and air quality in the environmental analysis center. We have an infrastructure that can reliably provide clean water and air at any time and any place. We address all water quality situations that change depending on geographical conditions and environment by collecting and analyzing the water samples from about 40 countries and developing our own 'Coway World Water Map'.
Air quality varies depending on space. In an effort for customers to enjoy clean indoor air no matter where they are, we visit various places where customers actually live to analyze air quality through 'IAQ(Indoor Air Quality) Field Test'. As of December 2015, we developed an index on 16 different types of air quality by collecting more than 100 million air quality data from about 1,300 households. The air quality index allows us to quantify the impact of pollutants on health and provide filters best customized for each customer's needs.Our passion to study water and air led to the launch of innovative products and patents. Coway holds 3,530 intellectual property rights in total (as of December, 2015), including more than 1,800 patents related to water and air.
ACHIEVEMENT
Innovations in Daily Life, New Future Driven by Coway
We gained international recognition for our innovative technology. In CES (Consumer Electronic Show) 2016, currently the world's largest consumer electronics tradeshow, we were awarded 8 'CES Innovation Prizes' for our product groups during our first participation in the tradeshow.
We delivered differentiated values through the IoT (Internet of Things).
We received New Technology Innovation Awards 13 times in history at 'Korean Innovation Frontier Award' awarded for a company that achieves results by driving innovation in new technology, products and services.
Development & Certification of Eco-Friendly Products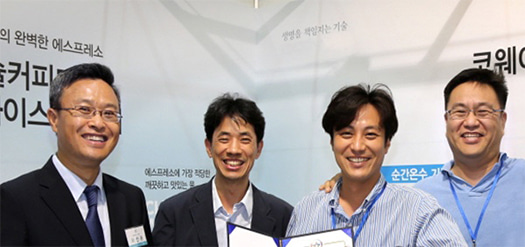 In an effort to minimize our product's impact on the environment, we take a lead in developing products that improve energy efficiency and reduce water use by using vacuum insulation materials and nano-trap filters.
Our efforts to develop eco-friendly products and services and reduce energy use gained local and international recognition as we were awarded Energy Winner Prizes for 11 consecutive years and obtained a variety of certifications. 'Coway Self-Sterilizing Water Purifier' obtained Korea's first Carbon Neutral Product Certification, leading efforts to reduce greenhouse gases and achieve low-carbon green growth.