ORDER & PAYMENT GUIDELINE
Thank you for your trust and choose Coway Vina as a shopping destination.
One of the concerns of customers when shopping is "how to buy their favorite products quickly and conveniently"?
To answer this question, please refer to the 3-step ordering process on Coway Vina website now.
Step 1: Search for products:
To search for products at the homepage of Coway Vina (cowayvina.com.vn), there are 2 ways you can find the product you need:
Option 1: Search by product category:
To search by category, you need to hover over a product category right on the menu bar of the.
Option 2: Search directly by product name:
This way, just search by typing the product name into the search box, the website will display product suggestions.
Step 2: Purchase
When choosing the product, you can click add to cart, then the screen will display a checkout page for customers to review the selected product to buy and pay for the order.
Step 3: Payment
Proceed with pre-paid
Step 1:
Click on the shopping cart, check the order summary, and click on your payment method:
Method 1: GUEST CHECK OUT (applicable to new customers who do not have an account registered on the website cowayvina.com.vn)
Method 2: MEMBERS CHECK OUT (applicable to customers who have logged into their account on website cowayvina.com.vn)
Step 2:
Enter billing address:
Note: The fields marked with * are compulsory field to enter information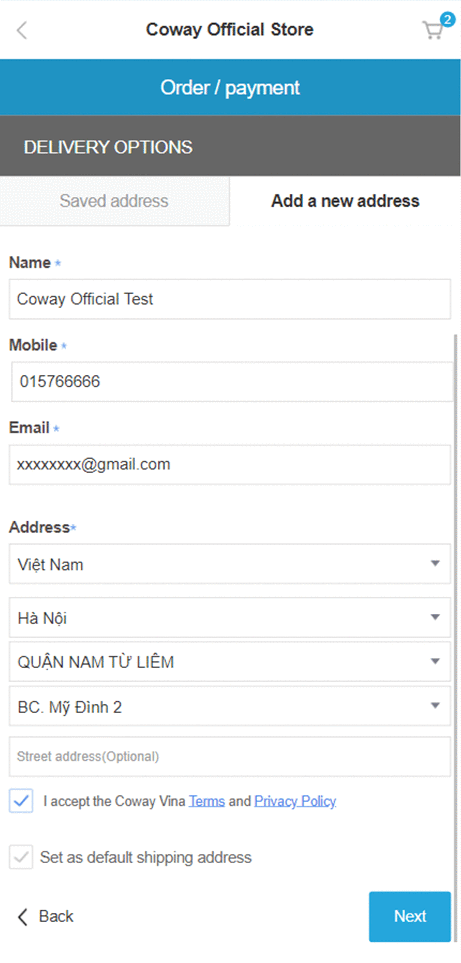 After completing the step-in address and promotional code, please click continue to purchase to select the delivery time and installation time according to your needs.
Pre-paid:
1. Payment by international cards Visa, Master, JCB
2. Payment via domestic ATM card / Internet Banking
Post-paid
1. Cash payment on delivery (COD)
2. Payment by QR code upon receipt of goods (QR code, VNPTpay ...)
3. Payment by card on delivery (POS)
At the payment page, you choose the payment method "pre-paid" or "post-paid". For pre-paid payment method, you enter card information for payment.
You enter card information including:
Cardholder's name (name printed on the card, without accents)
Card number (including 16 or 19 numbers printed on the card, do not enter spaces)
Issue date (the "MEMBER SINCE" part on the card side)
Click the button "Payment" to authenticate the cardholder.
After filling in the required information, select "Order", the screen will display a summary of your order, click finish payment to complete the order.
If the payment information is correct, the screen will display the message "Order successfully" to finish the purchase and payment process.
With just a few simple steps, customers can now order products on the spot without having to move. Wishing you success and satisfaction with the product you have chosen.
Sincerely thank you for your trust and choice of products at Coway Vina!